MEET MY CLIENTS ANDREW AND PETE!
You may have read one of my previous blogs about these two. You might have seen some of the headshot work I've done with Andrew and Pete over the past several years (we've worked together quite a lot).
So, when they told me that they were speaking for the first time at the amazing Social Media Marketing World in San Diego – #SMMW17, we all just knew that I had to photograph them seizing this career-defining moment. Time for Social Media Marketing World 2017 headshots!
ANDREW AND PETE'S HEADSHOTS PLANNING
Unlike our previous headshots planning session -which has been known to go on a bit- this time, planning our work together was quite different. The boys didn't know precisely when they would be on the stage. Nor, did they know exactly which room within the vast Convention Centre they'd be speaking from, at the time of our booking. So essentially, we were freezing out a block of time somewhere within a 3 day period.
We all agreed that it would be an excellent opportunity to meet up after 'The Big Twitter Talk' (they'd been asked to talk on Twitter this time) to catch them celebrating in and around San Diego for some fun On Location Headshots.  These would go perfectly with their recent Full Sch-Whammy Headshots Session we worked on together last August.  They'd had requests from their Atomic Community to share as much of their adventure this time as possible in San Diego, this was a great way to create some polished content for them to do that with.  We planned to do a quick Turbo Headshots session in and around the San Diego Marina, and follow this up with some beers together afterwards.
PLANNING ANDREW & PETE'S COMBO HEADSHOTS
Planning was really brief this time around with Andrew and Pete. A quick and concise wish list developed that included some key factors. I knew that it was crucial to involve and include the following factors in the shoot:
It was important for me to give them some space to settle in when they were speaking. I knew they were nervous and super excited about this SMMW17 opportunity.  They wanted as few distractions as possible at the top of their talk.
See how the crowd reacts to their "Big Surprise".  There was going to be some serious interaction going on during the talk, I had to capture it.
"Just Go With It" was the Turbo planning. THE LOOSEST plan we have ever had together on any shoot together.  This was all about joie de vivre this time.
ANDREW AND PETE SPEAKING AT SOCIAL MEDIA MARKETING WORLD
The conference was totally manic – not only was I booked in to photograph Andrew and Pete, but I had to juggle 4 other speaker photoshoots on top of the "track talks" I, wanted to attend – all over just 3 days!! Team this with a slice of let-lag, non-stop talking (I can't help myself) and a lot of fab parties each night. You can imagine what I mean when I describe my disposition with the word "Jangly".
I loved it!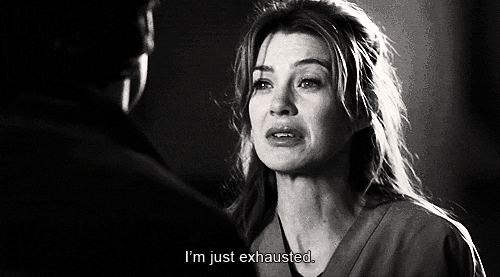 ANDREW AND PETE'S SPEAKER SHOOT
I saw Andrew and Pete for a split second the night before their big talk aboard the USS Midway. They were leaving as I was arriving. They were headed on home to rehearse in their hotel and get some sleep to prepare.
I followed the plan for shooting and ensured that I hung back at the start. Giving them a little space to settle in on their talking pace to begin with.
Andrew and Pete took out all the stops to engage with the audience – including showcasing their balls (beach balls, that is). Their presentation was called "CONTENT'S A BEACH: HOW TO CREATE SHAREABLE CONTENT, BEAT ALGORITHMS & CREATE FANS". In this shot above, they are guiding the crowd on some live-tweeting.
Once everyone in the room was into the flow of things and the guys could get that buzz from the positive interactions, I could get the fun close-ups of them enjoying being on stage.
AND… RELAX! SOCIAL MEDIA MARKETING WORLD 2017 HEADSHOTS
After Andrew and Pete's successful talk, we took to the marina a couple of days later for some more relaxed headshots to showcase the rest of the time they spent in San Diego. This was a great time to actually catch up with each other, and have a fun time goofing around together capturing their post-talk-high.
I'm just reading @andrewandpete Speaker Headshots blog and now I want to shoot with @laurapcreative
Click To Tweet
As planned we built on our previous Full Sch-Whammy Session from last summer and captured some EPIC SELFIES.
EXTRA THANKS TO
Huge thanks go out to Social Media Examiner for inviting Andrew and Pete to speak! This gave me the impetus to see if other speakers from around the world wanted to have me work with them photographically and has helped me grow my business of capturing ambitious people doing what they do best.
Here's to many more visits to Social Media Marketing World!
WHAT ANDREW & PETE THOUGHT ABOUT THEIR SOCIAL MEDIA MARKETING WORLD 2017 HEADSHOTS
When we got back home, I swang by Andrew and Pete's office to see what they had to say about using a combination of social media marketing world 2017 headshots services. Here's what happened:
WHAT ABOUT YOU?
If you're looking to build up visual assets in your business – particularly with Professional Speaking then you should take a look more closely at my Professional Speaker Photography Service.
GET MORE INSPO
You can head directly to the Speakers Gallery to see more of my Speaker Photography clients' results and get some further ideas for how you would like to shoot with me for yourself.