Watch This Episode Of Mwah Tv About Expert Branding Tips
LAURA: Expert Branding Tips this week. All the best bits from my Cocktail Correspondents from season 4. If you like the sound of any episode, in particular, you can skip on over to the episode in full. Links to all these episodes are below.
Evolution of this Segment
As a quick reminder to any of you who haven't seen a Cocktail Correspondent episode here on MwahTV before, you need to know that this is my way of making having guests on the show a little more interesting than the usual zoom chat recording.
As a small child, I would often pretend to be a cheesy TV chat show host with my lil sister playing the part of correspondent or guest. I also LOVE watching cooking shows – isn't it just so calming? So by fusing in these elements to the bog-standard guest show, I'm trying to push the envelope a little bit. Every guest has a zone of genius I think we can all learn from them. To accompany all that learning, we make and then sip on a cocktail chosen by the guest.
All of our guests in this season are real experts within the world of branding. Let's remind ourselves of who they were.
ANNA: On this episode of Mwah TV, it's me Anna Brand. And I'm going to be talking about, what makes a brand good-looking and successful. Don't worry, I have some examples for you to explain this in detail.
If you're not sure if your brand is a little bit drab and ugly, you should come and hang out with me and Laura.
DANNY: On this episode of Mwah TV, it's me, Danny Matthews. And I'm going to be talking about, how to leave a legacy as an entrepreneur. If you haven't thought about this before or you think it's basically just leaving your business to your kids, when you're gone, you're going to want to tune in, come and join us.
COL: It's me, Col Gray, together with Laura we're sharing some
stories from our careers. That's thirty-five years blended up with lots of rum in about 15 minutes. If you're curious about
working as a creative pro or you want to see if we've got tales just like your own, come join us.
As you can see, all our correspondents have similar areas of expertise, yet they show up very differently. This is a wonderful example of there being no such thing as competition when you have worked out your own approach and encapsulated that into your own brand. Something Anna talked about with us right here.
Anna's Expert Branding Tips
ANNA: I'm always saying that nobody does it better than you but only if you do it in your way and you're not trying to mimic anybody else out there. Once you stop mimicking people and you do it in your way, then you really don't have any competition because nobody can do your thing in your way.
There's only one of you. And once you do this, you can start loving the other people in your field and stop seeing them as competition and instead be cheering them on and celebrating what they do too.
I truly believe this. And in fact, I know this to be true.
Danny talked with us about this here.
Danny's Expert Branding Tips
DANNY: A great place to start with this is to look inward.
Where did you come from?

What have you overcome?

What have you been through?
Something in your story will give you a clue about how you can make a difference in the world.
Start there.
And if you can't find something to connect with, look at the U.N. goals and pick something that closely matches your story. That would be a really good place to start. And if you're still struggling after that, make it your job to figure it out.
I promise from that point forward, it will guide you.
LAURA: And because all the correspondents we invite here on Mwah TV have big ideas to share with us, I have incorporated my lifelong mission of hosting a cookery show by asking each of my correspondents to deliver these big ideas over a cocktail of their choice.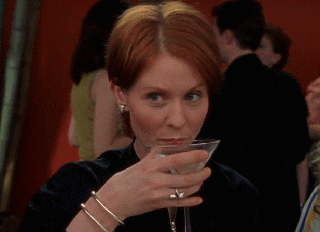 For me, this is its own cocktail of Jilly Goolden, Meets Nigella, Meets Sex and The City.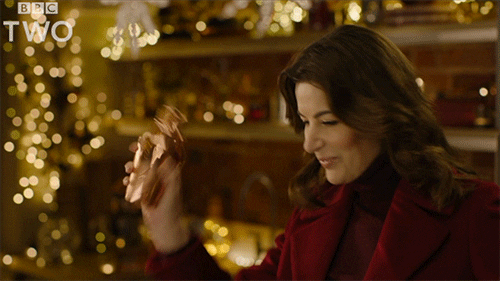 What better way to cogitate over a new idea than sipping on your favourite drink while you do that? Let's recap Season 4's Cocktails right now.
Anna's Cocktail - A Cubre Libre
ANNA: It's one of my favourites, a classic Cuba Libra. I like to serve this up in a tall glass with ice. You can't go heavy enough on the fresh lime, that's the trick, plenty of lime juice and then rub the lime around the inside of the glass as well.
You need a generous glug of white rum, it has to be white rum, top it up with Coke and then serve with a straw and another fresh slice of lime.
Danny's Cocktail - A Disaronno Sour
DANNY: Today. I've mixed a Disaronno Sour, which I'm pretty sure it's
an anagram for 'dinosaur' for this you'll need
Disaronno, fresh lemon juice, sugar syrup, Mrs Betters
Bitters miraculous foamer, a cocktail shaker, ice, fresh orange slices and a cocktail sip straw.
To mix it, you just add 50 ml of the Disaronno to your ice shaker. Then add in 25 ml of fresh lemon juice. Add in 15 ml of sugar syrup.
Add in just a quarter of a pipette of the bitters. Then you need to give it a really good 12-second shake and then serve it up in a rocks glass with your orange garnish and sip straw.
Col's Cocktail - A Painkiller
COL: Well, today Laura, I've mixed a pain killer because I love dark rum and calories.
LAURA: Whoa.
COL: Let me tell you how to make this.
What you need, is a tall high glass and an eco straw, a cocktail shaker filled with fresh ice, a nutmeg grater. And the ingredients, two ounces of Dark or Navy rum, four ounces of pineapple juice, one ounce of orange juice, one ounce cream of coconut, pineapple wedge for garnish and a whole nutmeg, which you'll grate later just for that spicy garnish on the top.
And to mix it, you just pour it in the rum, the pineapple juice, the orange juice, the cream of coconut into your shaker give all a really good shakeup like a death metal blast beat on the drum.
<death metal blast beat>
strain it into your iced highball glass, grate some nutmeg on there, add your wedge of pineapple garnish, then serve and enjoy.
Are You Ready To Sex-Up Your Creativity?
What if every incredible imaginative idea followed a defined process?
What if that intangible magic of "having it" or "knowing it" or "that x-factor" was actually crazy-simple?
So simple in fact that the most un-creative person out there could fathom it out.
The Playbook every single aloof creative type NEVER wants you to see.
If you're ready to Sex-Up Your creative abilities, this is the interactive play-by-play you need. Use it over and over again for every project.
When it came to planning out my episode with seasoned content creator Col Gray, we collaborated on evolving this regular segment of the show by introducing some big idea questions.
I really wanted to maintain my aesthetic principles with the cocktail correspondence segment but I really want to make sure that you guys get all of the best bits of mine and Col's 35 years combined experience. So I've invented a quick drinking game.
I loved this evolution so much, that I decided to keep this in for future Cocktail Correspondent Episodes. Here's Col talking about how he wants to give new creative professionals a leg up with their careers.
Col's Expert Branding Tips
LAURA: To begin with this, I've posted you a little pack of cards in the post haven't I Col? Did you get them?
Yeah, the cards arrived today. So let's open them up and see what we've got here.
LAURA: All right.
Ooh.
That's some sticky gum we've got on these cards.
All right, Okay, so, the first card says,
"Being a fresh face in creative, what not to do?"
"Collaboration, complete nightmare or creative sparks?"
"Burnout as a creative entrepreneur."
This next one is,
"Giving newbies, a leg up."
Now if I had people come in as an intern, I could do that on a one-to-one basis. But I needed a way or I wanted to try to reach out in a wider way, help as many people as possible from my experiences. And I suppose my YouTube channel is a way of doing that.
A regular comment that I get on my YouTube channel is that people are learning more from my videos than they learned when they were at school or college. So, there must be something there that is, worthwhile.
And I just wanted to say that I am just about to start doing actual mentoring for younger designers because I feel that part of my purpose is to teach.
I love teaching, I love delivering workshops. And so I've decided to make a conscious effort to make teaching a part of my business, a service offering that I give.
Timestamps for this Episode of #MwahTV
00:00 - Episode Starts
00:30 - What is a Cocktail Correspondent Episode?
01:24 - Remember Anna?
01:40 - Remember Danny?
01:59 - Remember Col?
02:38 - Anna talks about how there is no such thing as competition
03:22 - Danny talking about how to build a legacy as a brand
04:15 - My cookery show inspo & the cocktails
07:30 - Adding in a drinking game element
08:50 - Col talking about how he is on a mission to give as many new Creative Pros a "leg up"
Shall We Seal this With A Kiss? 💋
When you sign up to receive my Sealed With A Branded Kiss emails you can expect to get to know me a lot better, to be on the list for my exclusive offers and bonuses AND you'll never miss another episode either.