Watch This Episode of MwahTV About What To Wear for a Headshot Photoshoot
In this episode of Mwah TV, I'm gonna give you my opinion as a professional photographer about what I think is a good what to wear for a Headshot.
This is advice based on what I need from you and how I want you to show up in your final photographs.
I will always recommend when you have the budget that you should work with a professional stylist and I'm more than happy to put you in touch with the people that I love working with the best.
Simple Tips (With a Cummulative Effect)
A lot of my tips today are insanely simple but when you use them all together it has a cumulative effect which can make your results dramatically improve. This is exactly how to figure out what to wear for a Photoshoot.
Let's just start with the right preparation.
Correctly launder all the clothing you plan to wear in your next session. Make sure it is correctly ironed and properly transported to keep it looking pristine on shoot day. 
Sorting out some new grundies is the first level of this topic. 
You can step this up further with shapewear or a pro bra fitting if you have boobs.
The overall goal of having great underwear on underneath your headshot outfit is to ensure you have a smooth silhouette. If you wear ill-fitting underwear it's gonna make that new dress look cheap n nasty.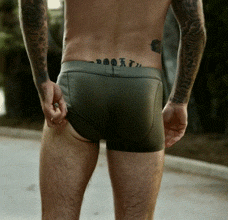 Great shapewear makes you feel more confident too.
So everyone unite, Let's embrace the spandex!  
Bear in mind the colour of your underwear too.  If it clashes with your outfit in any way you're gonna regret it. When in doubt plum for a nude colour that works with your skin tone.
Remembering a very simple h2t philosophy when you think about what to wear for a photoshoot is a great way to plan the right way for your next session.
From taking a hat right through to thinking about what shoes go with your outfit you can put yourself in the right place to make sure that when you shoot a couple of those full-length crops, you will be able to use them because your shoes match the rest of your outfit.
Taking a mix of accessories along with what to wear for a headshot is a really clever way to make it look like you have a lot of options in your results. 
For example, a man's session in a simple black tee can be made to look vastly different with a watch, a couple of hats, a hoody, or a cardigan.
For women, statement jewellery is a really easy way to dress up and dress down the same outfit.  You can do a million things with a couple of scarves. If you have long hair I always recommend you begin your shoot with your hair down. Then, over the session put it up.  Just like how I've said on this episode here and here, it's easier to build up than strip back.
Wearing light colours will lift a scene.  It is great to denote ideas of youth, freshness, and air.
Wearing dark colours gives you the chance to have your face and expression shine out the most in a shot, especially with a tight crop like what you'd see in acting headshots.
Very bright colours or busy patterns can be distracting in some sessions.  When in doubt keep a pattern inside a layered look. Like a shirt underneath an outer layer.
When it comes to colours you want to opt for colourways that compliment your colouring, your skin tone hair and eye colour.
It's great to integrate your brand colour into your outfit but this can go wrong quickly if done in the wrong way.  Wearing a full orange suit with an orange tie and shirt and hat and shoes is for sure "on brand" but let's be honest, you're gonna look like a bit of a muppet dressed like that. And if you have a cool skin tone that really doesn't suit orange you're double-doomed.
Instead, you could throw in an orange pocket square, or add a pop of orange in an accessory to have your brand colour integrate AND compliment you.  
A Quick Tip (To Get Started)
To see if you are warm or cool is to look at the veins in your wrists.  If they look blue-purple-ish you're cool and if they look more greenish you're warm. This is step one of getting a proper colour analysis with a professional stylist. Which I am not.
I love a bit of texture in any photography session I do. 
In fact, I'm a bit of a texture geek.  I even make notes of the textures of walls.  If you plan to shoot in a place with a really FLAT background you can recover this with wearing texture.  A big jumper looks great next to a flat backdrop for example.
Plan to take something textured to your next session to give variety and choice. Shapes and clothing can be confusing. 
When it comes to what to wear for a headshot think about the shape your neckline creates around your face.  Tiny thin straps can give you a naked look if cropped tightly.  Or bulky jackets with big collars can give you a pinhead look.
A V-neck is going to give a rounded face a bit more structure and sometimes a touch of masculinity.  A Round neck will soften your overall look.   Always try to avoid wearing brands or clothes that are really on-trend.  Big brand labels are never a good idea on a photoshoot when in doubt keep it simple. 
Very trendy looks will date pretty quickly.  This is fine if you are focused on bringing a fashion element into your look, but it will mean you have to update your photography in line with the fashion seasons.
Get To Know My Brand Photography Services
You can get more familiar with how my different services work by helping yourself to a copy of my latest brochure. 
To do this, just pop your details in here and I will email it over to you.
Being in the brand photography world means that I'm always analysing the mood you are giving in your headshots.  This can be hugely affected by what you are wearing.
If you want to convey openness and friendliness wearing a tight high collar and some restrictive layers is going to jar with that message. 
If you want to convey skill and professionalism, wearing loose ultra-casual leisurewear is going to jar.
That being said, if your brand is actually about a jarring message then dressing you in clothes that have a conflicting message to what you do might be putting you precisely on brand.
The Pimp-Daddy Accountant
Perhaps an accountant who dresses like a pimped-out rapper cos she delivers accounting services to the showbiz and adult industry world?
It's all online, it's 100% paperless, and she can hide invoice categories into "entertainment budgets" so you are all cool with the taxman. If you are that lady, please get in touch in the comments below so I can buy you a cocktail and learn about your exciting life!  
I love to shoot out on location as much as possible.  That's my personal style and approach.
This can sometimes be pretty challenging for you in what to wear for a Headshot.  If I need you to walk up the side of a big slippery hill so we can get to a gorgeous vista, it's better you bring your hiking boots with you and a big pair of cosy socks. 
Then when we get to the top you can go barefoot or throw on the Jimmy Choos.  
I wear a lot of very unsexy but practical outdoor wear to a shoot, my crew is de-briefed to do the same.  If you are out shooting on a cold day:
bring the thermos,

bring your big coat that has no shape. 
I want you warm and safe between sets.  On the flip side, if we are out in a hot climate, you need to show up with something to protect you from the sun:
A big floppy hat,

a sarong, and the mumu!  
Think about the outfit that will end up in the final image when you are planning what to wear for a headshot.
Timestamps for this Episode of #MwahTV
More on Fabric & Material
In this episode, I go into more detail on how to make sure you can avoid fabric refraction in the clothing you wear.
You need to know about this when you are thinking about what to wear for a headshot.
Shall We Seal this With A Kiss?
When you sign up to receive my Sealed With A Branded Kiss emails you can expect to get to know me a lot better, to be on the list for my exclusive offers and bonuses AND you'll never miss another episode either.